After six beta builds of the latest iOS 11.4 of which were issued to public testers and developers, the latest iOS has finally been released to the public. So if you're an iPhone, iPad, or iPod Touch owner, now is the time to upgrade. Tune in today for six exciting new features to check out in the latest iOS 11.4 release.
Messages Now Appear in iCloud
It's been nearly eight months in development and now we're happy to report that Messages in iCloud is finally here. If you're looking to preserve those precious conversations while freeing up space on your phone, listen up. To enable Messages in iCloud, simply navigate to your iCloud settings page and toggle on "Messages". Once you've done this, open up the Messages app on your iPhone and you should see a prompt. If you want to sync your conversations with your Mac, be sure to be running macOS 10.13.15 or later.
AirPlay 2 Allows You to Control Music in Multiple Rooms
Another long-awaited feature that's come to iOS 11.4 is AirPlay 2. Currently, AirPlay 2 only offers support for HomePods and Apple TVs running tvOS 11.4, however, it will eventually work with non-Apple speakers and systems.
AirPlay 2 allows you to listen to the same music/audio across multiple speakers while making it easy to transfer music from speaker to speaker as well as pair speakers within HomePod.

READ MORE: New iPhones for 2018 – Release Dates, Prices & Specs
AirPlay Commands and Siri are Now Compatible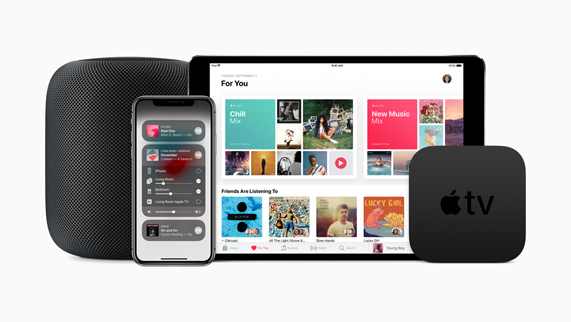 While AirPlay 2 is exciting enough on its own, what's even better is that you can now initiate audio/music commands within it via Siri. For example, if you want to hear "Surfer Girl" by The Beach Boys in the living room, simply say "Hey Siri, play Surfer Girl" by The Beach Boys in the living room" and it'll come on right away. Siri will even turn off whatever's playing on Apple TV and switch over to music/audio automatically.
READ MORE: Aging iPhone Battery? It Might Cost You More Than You Expected to Replace
3D Touch is more responsive
While it's not necessarily a new feature, it's no secret that 3D touch didn't react as quickly as many would have wished. Many have found that after unlocking their iPhone and attempting to use 3D Touch they would have to wait 3-4 seconds in order for it to respond. The goods news is that with the release of iOS 11.4, you can now use 3D Touch right away with no delay.
New Wallpaper Options in iOS 11.4 for iPhone 8 and iPhone 8 Plus
Not exactly a new "feature", but if you're an iPhone 8 or 8 Plus owner, you now have a plethora of new wallpaper options to choose from. For whatever reason, the iPhone 7 and iPhone X don't have native access to these new wallpapers, but you can always download them if you'd like
READ MORE: The Complete Guide to iPhone X Camera Pictures
Keep your iPhone's Data Safer with USB Restricted Mode
A feature that appeared briefly in iOS 11.3 but was removed in order to be developed further is now a part of iOS 11.4. "USB Restricted Mode" is now available in iOS 11.4. This mode helps better protect your data from hackers, digital forensics specialists, thieves, law enforcement officials and others you don't want accessing your private information.
If your phone hasn't been unlocked via fingerprint, facial recognition (biometrics) or a passcode for over seven days, the phone will automatically restrict the Lightning port to charging mode only. This means that should someone plug your phone into a computer, they'll only be able to charge the phone which means no data can be extracted. Brute-force tools such as Cellebrite or Grayshift won't work and your data will remain safe.
As you can see, the latest iOS 11.4 release offers many reasons to upgrade. Whether you're looking to improve convenience and comfort at home with AirPlay 2 and Siri-activated AirPlay, or are seeking greater security over your precious data with USB Restricted Mode, upgrading to iOS 11.4 is a no-brainer.
READ MORE: Tips And Tricks for Your Brand New iPhone X